Ashutosh Chatterji
Presents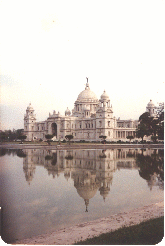 He mor chitto, punno tirtha'e jago he dhir'e,

Ei bharater mahamanaber sagar tir'e.

(O my soul, awake and behold this holy shrine,

Here, on the shores of the ocean of humankind.)

- Rabindranath Tagore (1861-1941), poet, first Asian Nobel Laureate

CALCUTTA

The City of Palaces

The author of this page is

Ashutosh Chatterji, a Calcutta enthusiast, but by no means a historian or a culinary expert. The textual contents of this page may be incorrect and all feedback is welcome. The author also wishes to declare that all pictures have been downloaded from various sites including, but not limited to The British Library, The East India Company Museum in France and some vexillology sites. Anyone objecting to the use of such pictures may contact the author. The author maintains that these pages will never be used commercially.
Architecture
The Sights
Historical Journey
Museums
Parks
Chowringhee
Maidan
The North
The South
The Hooghly Heritage
Practical Information