[ Family ]
[ Marian Musings ]
[ Rourkela Ruckus ]
[ 28 Camac Street ]
[ Project Calcutta ]
[ Our Homes ]
[ Foggy Bottom ]
[ Around the World ]
[ Passage to India ]
[ Passage to America ]
[ Interests & Links ]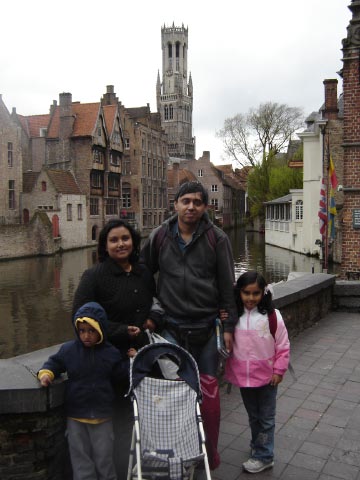 Bruges, Belgium, April 14, 2005. From left to right: Pronoy, Meenakshi, Ashutosh and Arpita.
Welcome to my web site!
Hello. Welcome to my website and be prepared to be bored to death reading about myself, my family, beliefs and favorites and my adoptive city, Calcutta, its attractions, food and history.
Talking about myself, I began life in what used to be a small academic and military town called Meerut in northern India. My parents still live here, and our house at 'Seventy-one Western Kutchery Road' continues to be Home for us. In 1997, I married Meenakshi Banerjee, who is also a non-resident Bengali like me, having been born and raised in Allahabad, also in northern India. In 1998, we were blessed with a daughter, Arpita, better known as Mini and in 2002, we were blessed with a little boy called Pronoy, thus completing the family picture.
I lived in Meerut from kindergarten through high school, studying at St. Mary's Academy. I am still in touch with a few of my friends from the St. Mary's days and I occasionally end up rambling over e-mail with them, that I like to call my Marian musings.
After graduating from high school in 1988, I went to the Regional Engineering College in Rourkela, a modern industrial town built around a steel factory in Eastern India. The four years that I spent in Rourkela brought about my first transformation. I made more friends here than ever in my life. My ramblings about the college days as well as pictures have ended up in the section titled Rourkela Ruckus.
After graduating from college with a major in Computer Science in 1992, I joined CMC Limited in Calcutta. CMC was then a premier hi-tech company that focused on the most innovative IT solutions while not caring too much about profits. They carried out some of the most astounding IT feats before they were forced to change their strategy and take up more mundane money-making projects. I had the privilege of being part of a project to automate the steel making process at Bhilai Steel Plant, one of the largest steel factories in the world. I stayed for two years in the town of Bhilai in central India that was filled with technological challenges and the satisfaction of overcoming them. This was also the time of great fun with my Kawasaki motorbike and a lot of adventure with friends. CMC's office at 28 Camac Street, Calcutta-16 was the focal point of some of the most intense friendships as well as rivalries, provided the finest examples of the virtues and vices of humankind and led me from the best technological achievement of my life to some of the most unproductive times (when I got paid for breaking my own Tetris high scores) through the most hilarious incidents and some of the most bitter moments, too. The 28 Camac Street section talks about the time I spent at CMC together with some pictures.
After my days at Bhilai Steel Plant were over, I moved to Calcutta and continued working with CMC until 1995, when I joined RS Software India Limited also in Calcutta and where I remained until 1996. Even though I have lived in Calcutta for only two years, this city has touched and fascinated me in more ways than any other. I lived a pretty comfortable life in this city and spent long hours delving into its history and culture, both of which are in great abundance. I have since compiled a lot of junk on Calcutta that I present in the Project Calcutta section.
I came to the United States in 1996, and have since lived mostly in the vicinity of Washington DC. Our home away from home is now in Ashburn, Virginia. We have lived in six homes since 1996. Our Homes hosts some pictures and other information about our different homes and life in the US.
After 8 years of abstinence from all things academic, I joined The George Washington University at Washington, DC as a graduate student in the Department of Computer Science, and was awarded a degree of Master of Science in the summer of 2002, primarily for managing to complete my coursework at the eleventh hour. The source of my inspiration to go back to school is my father, who has proactively encouraged me to follow the path of knowledge, although my mother and sister have also encouraged me all along. My wife has been very kind and understanding to manage the household without my slightest physical contribution, dropping me off at and picking me up from classes for two years, which was encouragement in itself. The Foggy Bottom section (named after the neighborhood in the District, where GWU is located, also home to the "honorable" Condoleeza Rice's office) talks about the wonderful things that I learnt at GWU and a couple of term papers that I deem fit of bragging about.
Meenakshi and I share a passion for visiting new places - something that we must have inherited from our respective parents - and have also been blessed with many opportunities to travel to various places around the world (well, Asia, Europe and North America, only, so far). The Around the World section has pictures and other information about our trips.
As a proud citizen of India and a resident of America, I happen to have the privilege of acting as an informal ambassador to both countries. I have found that both sides always had information about the other, without the slightest inkling that it was completely wrong. Hence, terms like Hindu-dominated India and notions like most Americans are hippies. The Indo-America section contains information that may likely be used by members of both societies to understand what I have come to believe in the six years that I have lived in the US - that the similarities between the two great nations and their societies far outweigh the differences (if you had been wondering I have the flags of both nations on the page header, it is because of this belief).
Everything else goes into the catch-all Interests & Links section. You may actually find something that you always wanted and never thought would be available so don't miss going there.
Ashutosh Chatterji
20809 Crofton Court
Ashburn, VA 20147
UNITED STATES OF AMERICA
ashutoshchatterji@yahoo.com
+1 (703) 729-1481
This page was last updated on 05/13/05.