We spent eight days in Calcutta in April 2005. While most of the time was spent attending my sister's wedding (and associated errands), I managed to sneak out on two mornings between the hours of 5:30 AM and 8:30 AM with my cousin, Anandamoy Chatterji, of Lucknow, walking around Dalhousie Square and Victoria Memorial. Here are some pictures from that trip.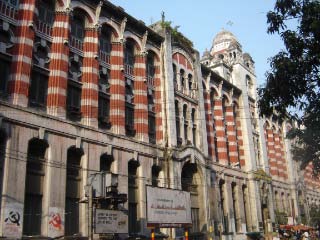 The Chartered Bank Building, Dalhousie Square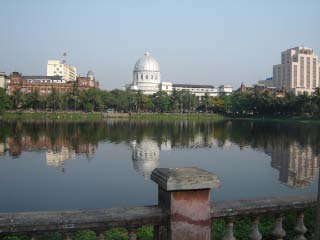 Dalhousie Square with a view of the Imperial General Post Office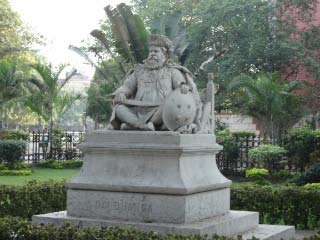 Statue of the Maharaja of Darbhanga, across from Hong Kong House, Dalhousie Square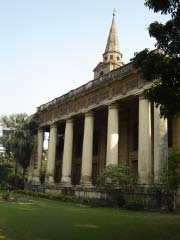 St. John's Church, the oldest existing Anglican church in Calcutta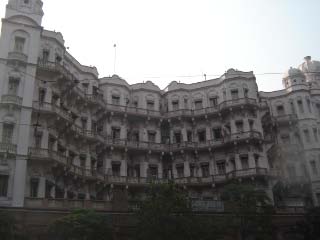 Esplanade Mansions, Old Court House Street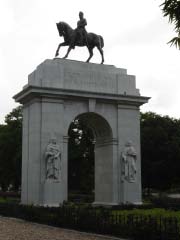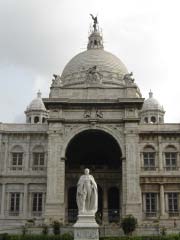 Victoria Memorial from the southern entrance. Left picture shows arch with equestrian statue of King Edward VII. Right picture shows the statue of Lord Curzon in front of the building.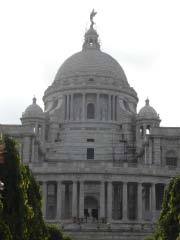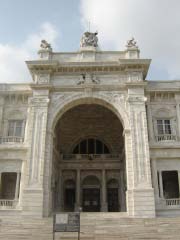 Victoria Memorial from the west and the north, respectively.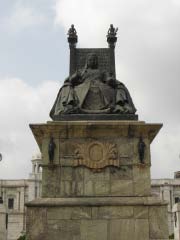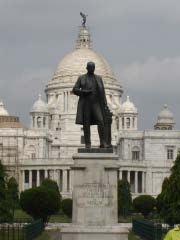 Victoria Memorial: Statues of Queen Victoria (left) and Sir Ernest Fraser, Lieutenant Governor of Bengal, 1903-1908 (right). Queen Victoria's statue is an exact replica in bronze of the one outside of Buckingham Palace.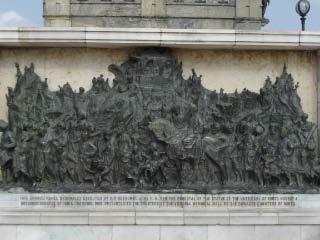 Victoria Memorial: Bronze panel at the base of Queen Victoria's statue. The inscription reads, "This bronze panel originally executed by Sir Goscombe John R. A. for the pedestal of the statue of the late Earl of Minto Viceroy and Governor-General of India (1905-1910), was presented to the Trustees of the Victoria Memorial Hall by the Dowager Countess of Minto."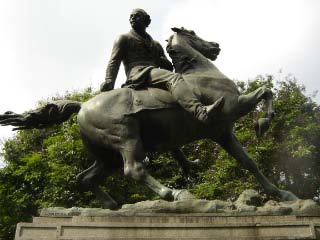 Victoria Memorial: Equestrian statue of General Sir James Outram, a British army officer known for his role during the siege of Lucknow during the First War of Independence of 1857 (what the British like to call the Sepoy Mutiny).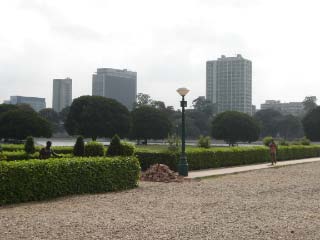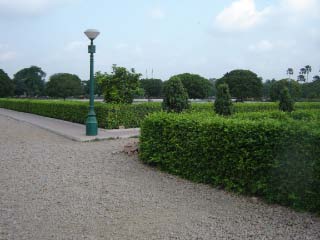 Two views of the city from the grounds of the Victoria Memorial. The Chowringhee skyline (left) and looking out towards Fort William (right). Whither poverty, overcrowding and squalor?
Calcutta's ubiquitous yellow taxis in front of Victoria Memorial. Why is it that great cities have yellow taxis? As in New York and Calcutta. :-)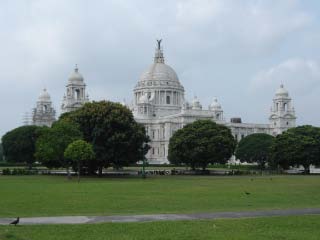 Victoria Memorial in all its glory.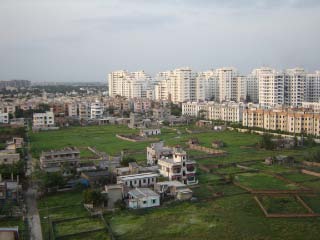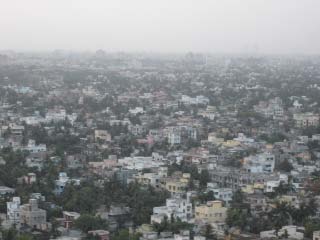 Two shots taken from a friend's flat in Hiland Park, one of the new developments on the Eastern Metropolitan Bypass. The second one was taken just after sunset, but covers a good part of the city all the way to the river. The blur on the skyline about 80 percent to the right is the Vidyasagar Bridge, which used to be the longest cable-stayed bridge in the world when it was built.