One of the most memorable incidents at Maroda between 1992-94 was a picnic to what are known as the Hazra Falls, that people traveling between Bombay and Calcutta by train are more apt to miss than see somewhere just before they enter a tunnel a couple of hours out of Nagpur. The picnic would not have become "The Picnic" had it not been for a series of events that snatched this particular outing from one of the many others into an epic that rivals Jerome K. Jerome's boat outing up the Thames with his two friends and dog.
For starters, this event was not one of the amateur efforts that we often undertook on our respective motorcycles, as in the trips to Rajim and Bharda Dam. This was a company funded affair (which was perhaps why it was doomed to start with), which meant we got to go in a bus and the number of people involved was quite high. As a matter of fact, the trip involved a reconnaissance mission involving three motorcycles and four riders. There were two Yamahas with one rider each (Purnendu Chakraborty and Sudip Sen) and there was my little Kawasaki with me and Shridhar Subramaniam astride. The location was not known to anyone, except Gyani, the gentleman who ran the cafeteria. At the time we left, with the blessings (in triplicate) of T. K. Baidya, the general idea was to take the Great Eastern Road (the highway linking Calcutta and Bombay) to the point from where the road forks towards Dongargarh. The place was supposed to be a few kilometers beyond Dongargarh and expectation was that we shall find directions to the place and see if the road was motorable and that the place was worth the effort. The riders of the Yamahas had two definite advantages. They had comparatively powerful machines and they knew the way to Dongargarh, apparently like the backs of their respective hands. Elaborate instructions were given to us rookies - since we were going to be left far behind - as to how not to miss the turn for Dongargarh. True to our reputation we arrived at the fork and found no one waiting for us. We guessed that the two fearless riders would have most definitely reached Hazra Falls by now so we trundled on to Dongargarh, sought directions to Hazra Falls and set off in the general direction that everyone seemed to point to. A few kilometers further it seemed less and less likely that Purnendu and Sudip would continue without us beyond this point. We finally got to a stream that had to be forded and figured this was as far they would have gone. Something was definitely wrong - it did not seem like they had made this far. Instinctively we headed back to Dongargarh. We must have just crossed into the town limits when who do we see but our good friend Purnendu coming in our direction, quite lost. He seemed to be rather relieved to see us. He had missed the turn, and felt really embarrassed. He apologized profusely, as he is wont to do, and then asked us, "Where's Sudip?" Gee, how were we to know? Apparently, the two of them had chosen to have a friendly race and that is how, at least Purnendu had missed the turn on G. E. Road. We had lunch at Dongargarh and with no Sudip in sight we figured he was truly lost or had gone way ahead to the Falls. We then proceeded to our destination, past the stream that needed fording and down many a dirt tracks, asking for directions on the way - with everyone saying it was another 8 kilometers, until we had traveled about 40. Hazra Falls did live up to Gyani's description, even though we found no evidence of Sudip or his Yamaha. We came back quite worried for our missing comrade, until upon arrival in Maroda we saw his bike parked right there, which was a big relief. Sudip had missed the turn and then continued for miles. He wondered why Purnendu had not caught up with him, and while he was wondering, sleep overcame him and he decided to take a nap (after he had pulled over, of course) until the rest of the slow pokes caught up with him....wonder if he was a rather celebrated hare in another life...
Anyway, the picnic took off under the able organization of Mr. T. K. Baidya, not to mention the misgivings of our resident-doubting-Thomas-designate, Parthasarathi Mookerji. Everyone was on the bus except our fearless riders, Purnendu and Sudip, who, much chastened from their previous escapade - or lack thereof - did not go chasing each other or wild geese, for that matter and therefore stayed close to the rest of the crew in the bus. I had my little Kodak Kroma at hand, and as the day began to unravel - literally, it was put to very good use, chronicling for posterity, the events of the day, that they can learn from and steer clear out of. The album was lost for a while and only recently discovered during my trip back to Meerut, India. The next 23 pictures and their captions speak of the day.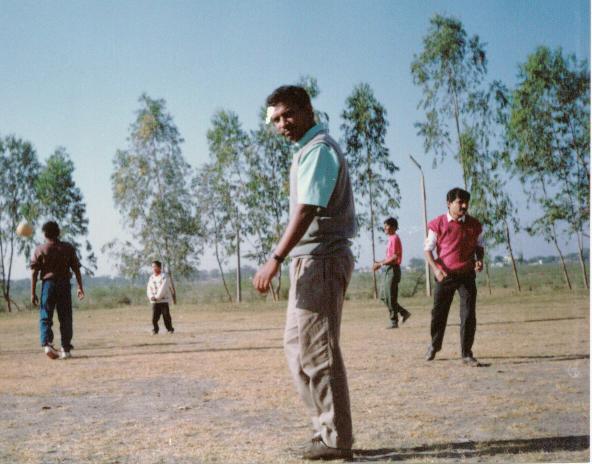 Breakfast stop at a "diner" called Apna Ghar on G. E. Road between Durg and Rajnandgaon. The folks are making good use of a football - soccer ball for those who believe the Super Bowl is an international sporting event. The two gentlemen to the left are not distinguishable, but the three to the right, standing front to back are Tapan Das, Robin Saha and Sumit Sengupta.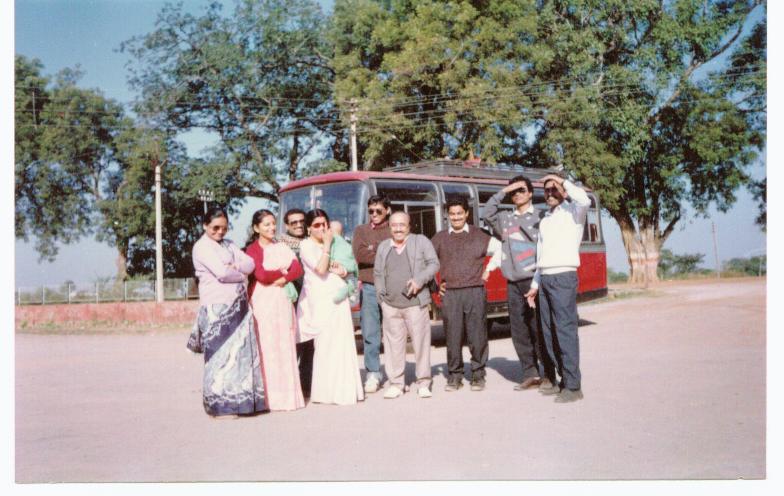 Also at Apna Ghar, while all is still quite on the western front. Standing from left to right: Mrs. Baidya, Mrs. Sandhya Bajpai, Parthasarathi Mookerji, Mrs. Mookerji holding little Master Bajpai, Ashutosh Chatterji, T. K. Baidya, Abhijit Mitra, Nirmalendu Patra and S. Velmurugan.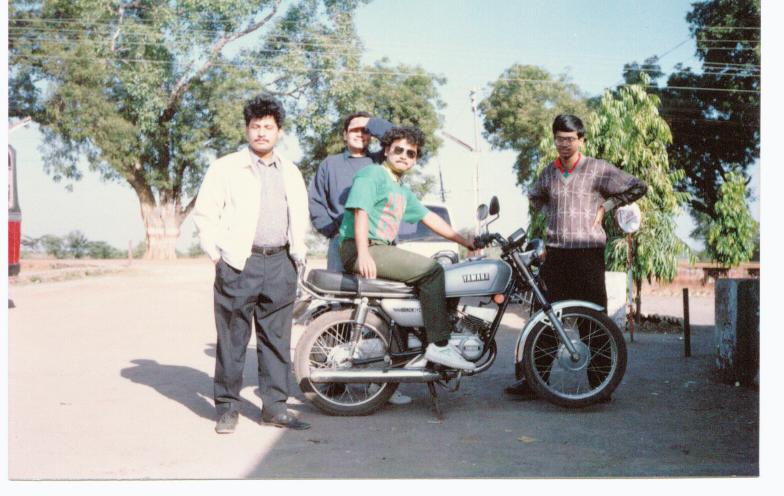 A fearless rider and his admirers at Apna Ghar. Left to right, Patra, Gulathi (both summer trainees whose names slip my mind), Sudip Sen and Shridhar Subramaniam.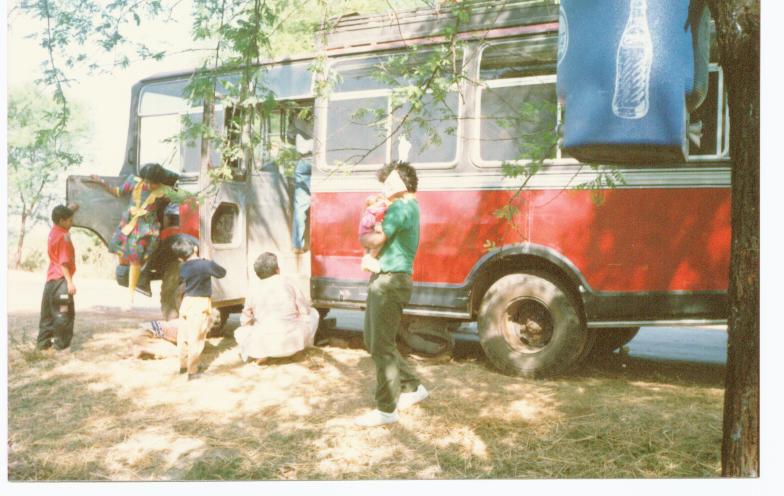 The first debacle - our bus suffers a broken transmission. The three kids playing in the front are, from left to right, Mithu Baidya, Pana Mookerji and Tukai Mookerji. Gyani is on his haunches looking at either the provisions for the lunch or possibly talking to the mechanic under the bus.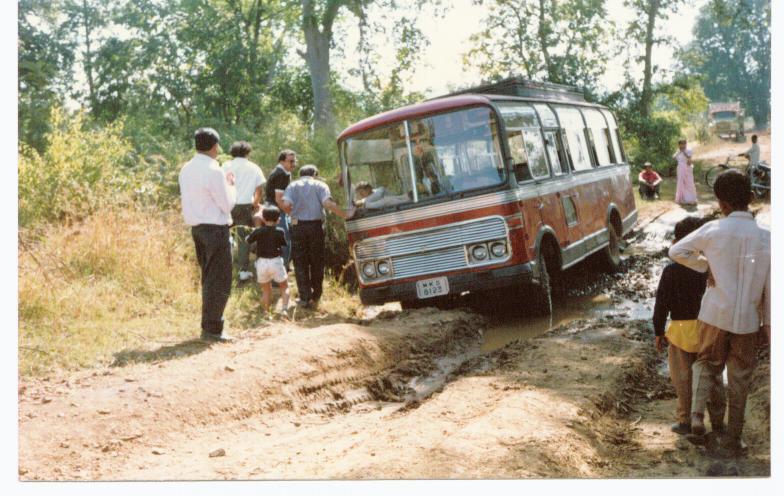 The bus fords the stream but then gets caught in mud. Spirits are still high as everyone has an idea of how to get the bus out. How many engineers does it take to extricate a bus from a mud trap?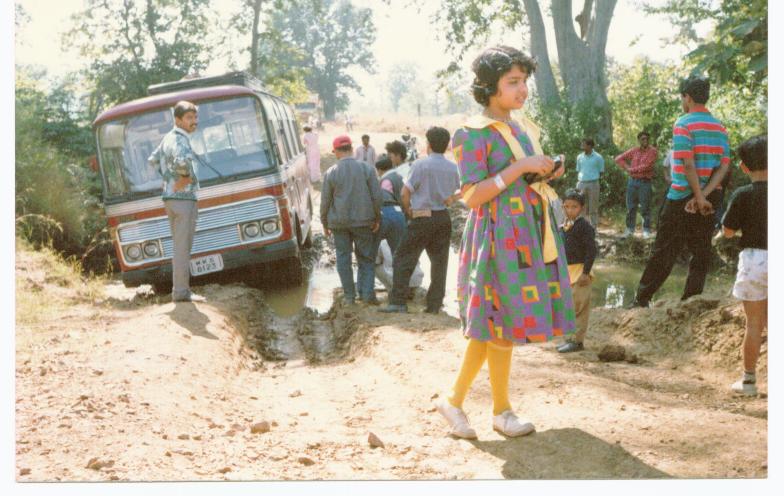 A second round of engineers assess the situation from a distance and from up close.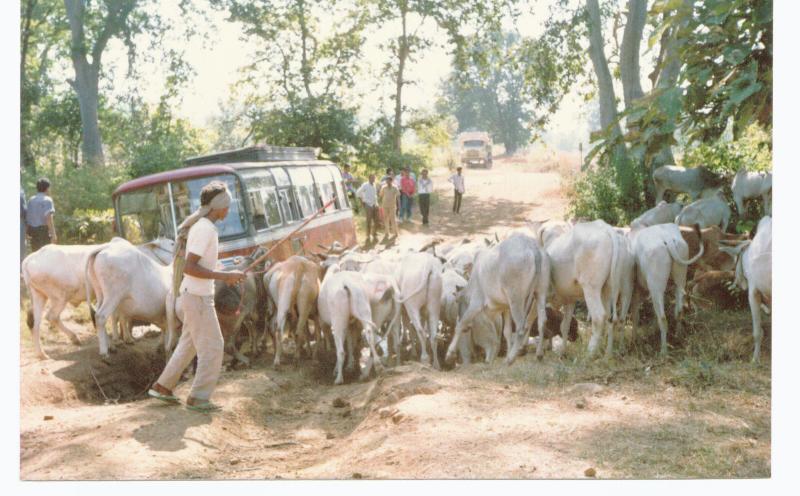 The rescue mission is temporarily suspended to let a herd of cows pass by.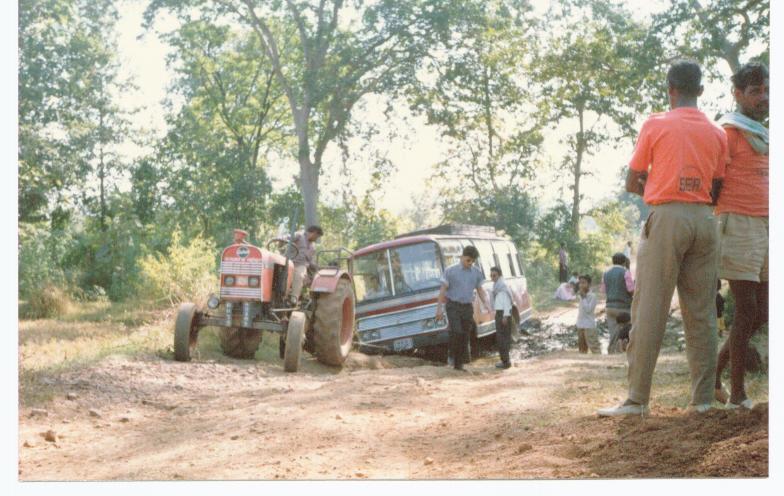 Tractor to the rescue. A rope is being used to haul the bus out of the mud.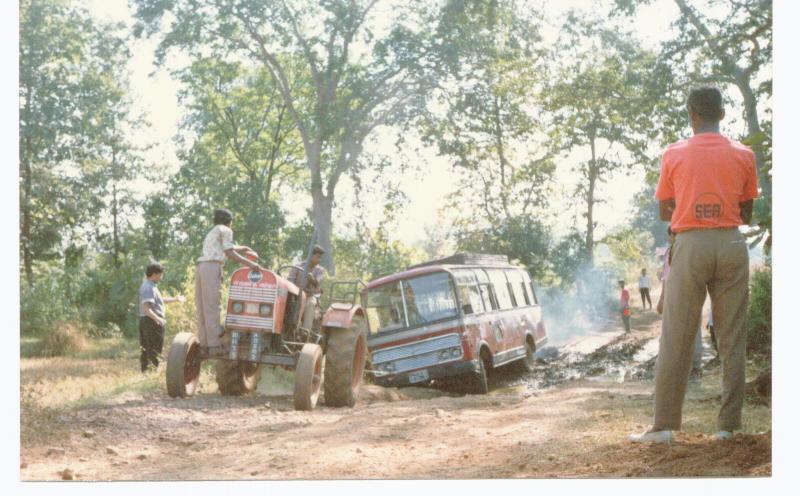 The strength of the rope is tested successfully a second time. Conclusion: The rope is not strong enough.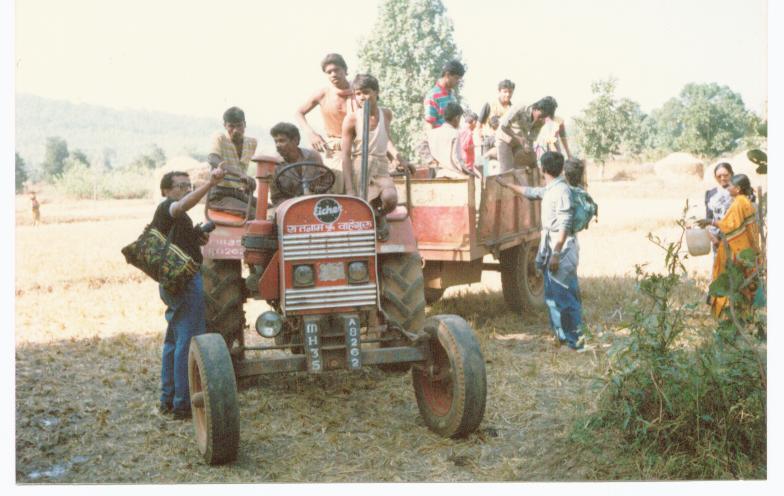 Trust Partha Mookerji to convince a horse that it is an ass with his okay-fine-but why routine, or persuade a tractor who is going home east to head west to the Falls with all of us. All aboard, the tractor express!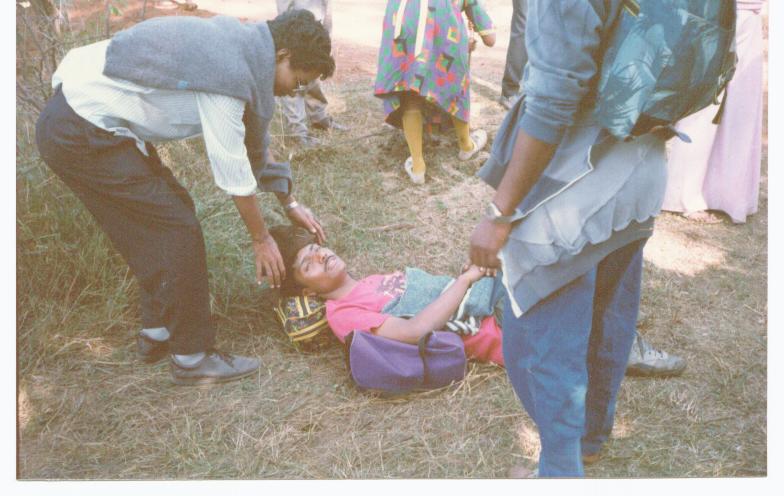 Get up Sumit! You don't have to feel faint anymore. Nirmalendu Patra wakes up Sumit Sengupta.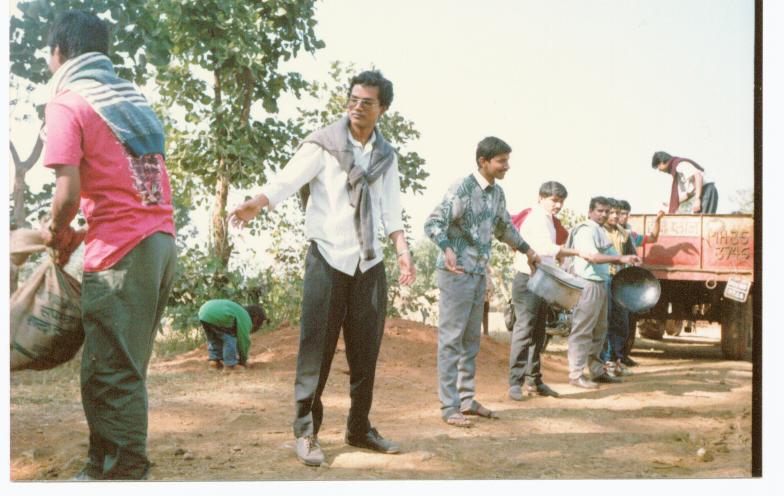 The human chain gets stuff moved faster from bus to tractor. Left to right, Sumit Sengupta, Nirmalendu Patra, Sudarshan Prasad, Robin Saha, Tapan Das, Baidya's elder son (I forget his name), Shridhar Subramaniam and Khurshid Usmani.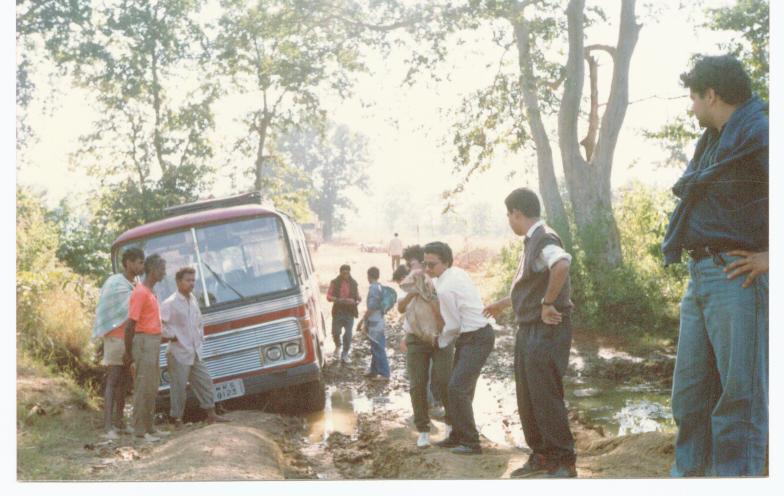 The other end of the human chain that would have made it to a Raj Kapoor movie (Sathi Haath Badhana!) sequence if only it had been a couple of years sooner. Left to right, Ashutosh Chatterji, unidentified, Sudip Sen, Manan Mandal, Abhijit Mitra and Gulati. Three South Eastern Railway workers look on to the left.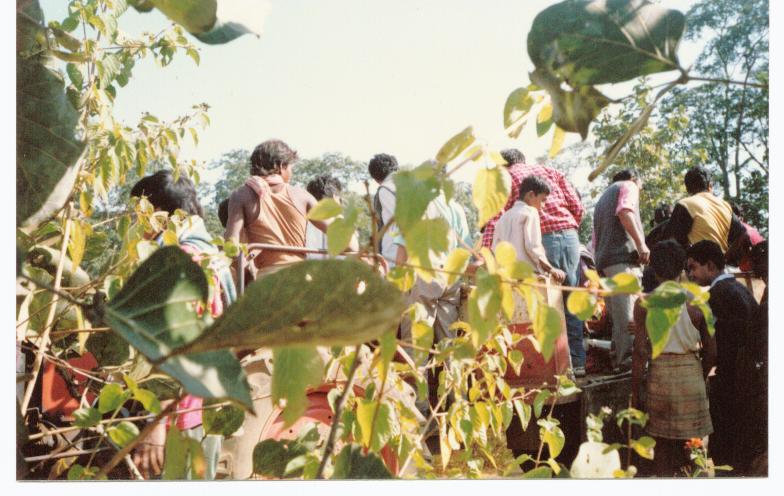 The Tractor Express from behind a clump of trees.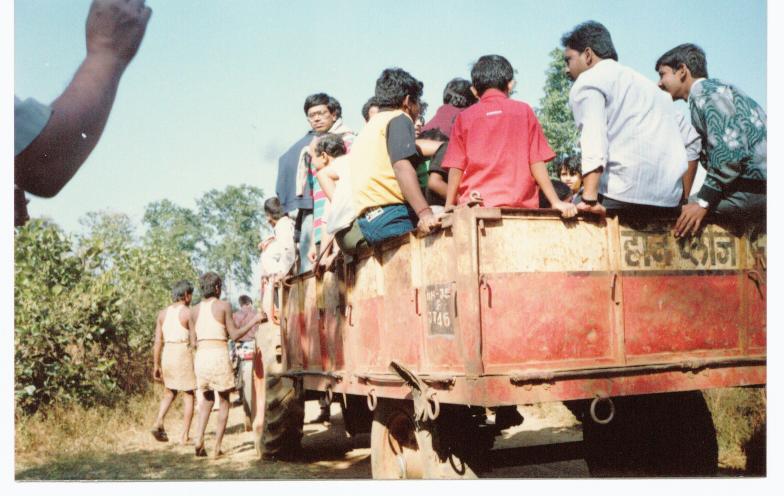 The Tractor Express moves on....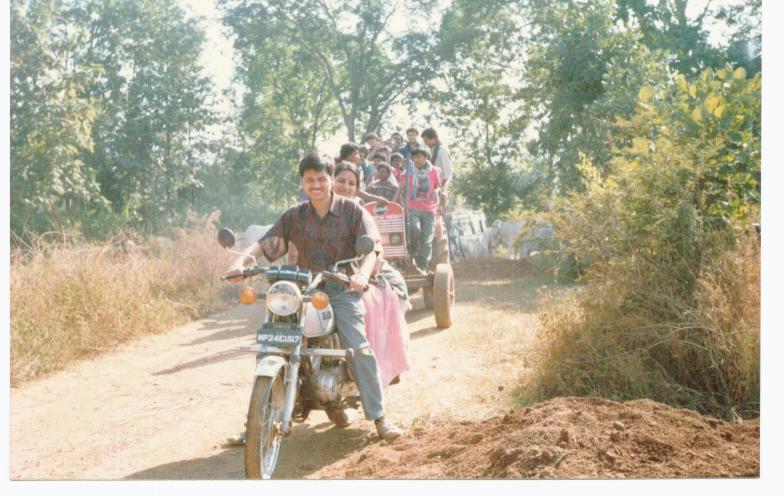 The pilot team of the Tractor Express - Prakash & Sandhya Bajpai astride Sudip Sen's Yamaha.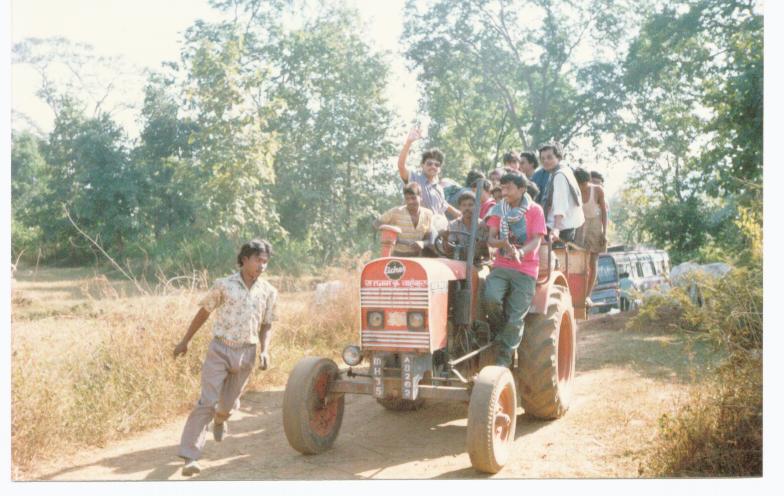 Sumit Sengupta as conductor of the Tractor Express. Not sure who the gentleman trying to get run over by the tractor is.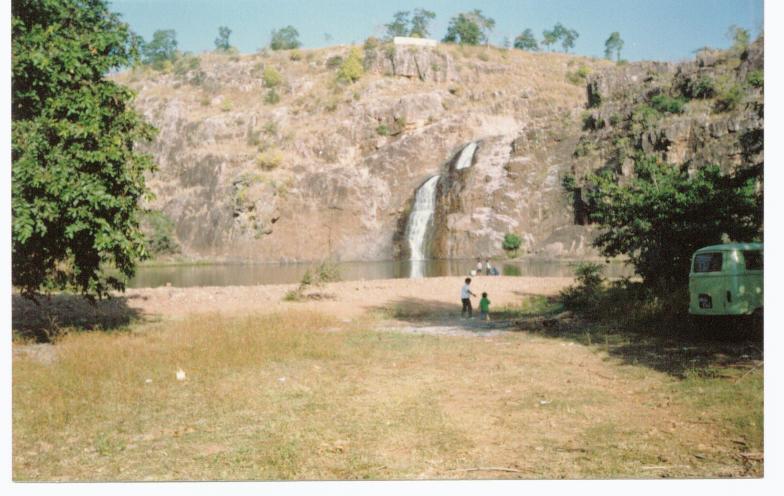 Hazra Falls, at last. The little van to the right carried another set of more fortunate picnickers who will soon leave.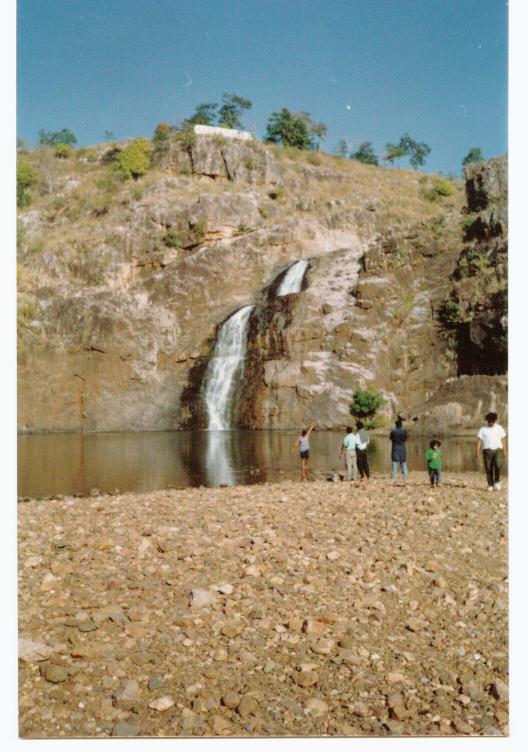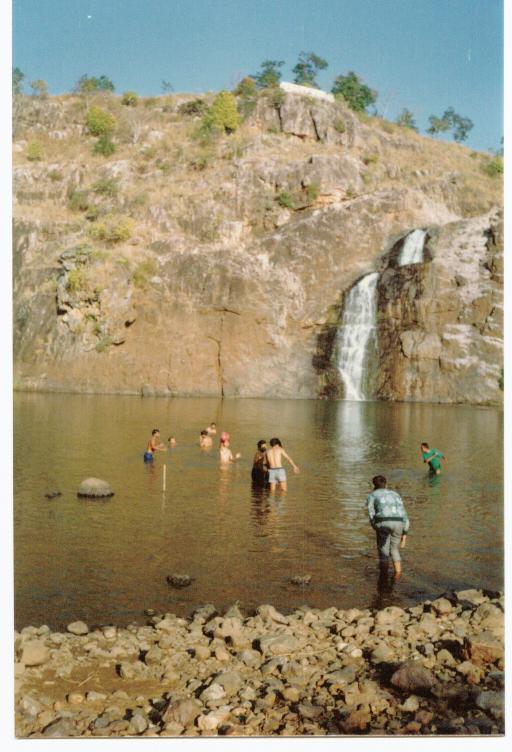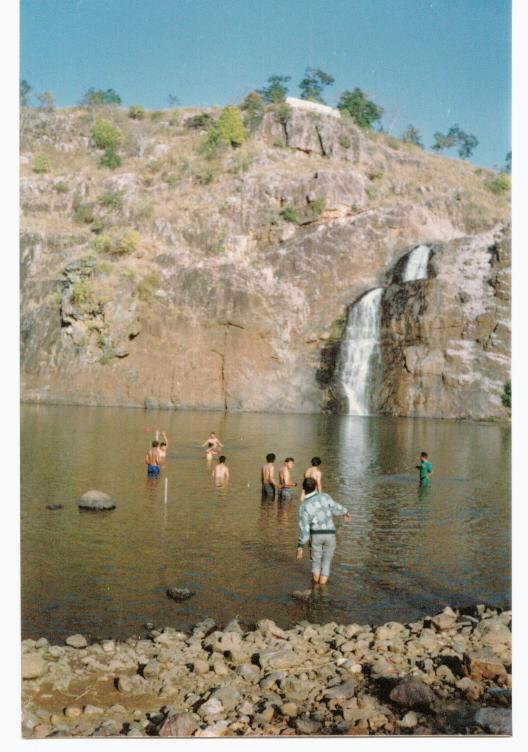 A refreshing bath at the Falls. The sun is almost ready to set. We step out of the water and talk to the locals. This happens to be plum in the middle of a Project Tiger Reserve Forest. Also, a nearby Government Guest House is being reconstructed after it was torched by Marxist guerillas. And of course, we have no way of going back - yet!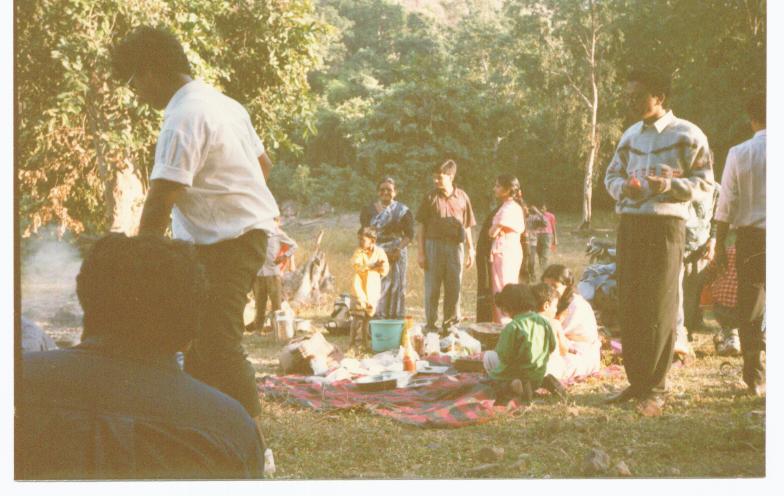 The plunge in the cold waters of the falls and the pool over, we settle down to Giani's lunch. I have never had better tasting food in my life. Of course, I have not had lunch at 5 p.m. too often either. Manan is so hungry he is eating a raw tomato. While we are in the middle of our "lunch", no one has noticed T. K. Baidya and Purnendu Chakraborty. Suddenly, there we hear a rumbling noise, and lo and behold, there comes our bus and the two people who were not missed. Baidya da went to the local Public Works Department, flashed his CMC ID and his trademarked charm that made him the unofficial CEO of CMC's Bhilai domain, and there appeared a powerful crane that hauled the bus out its muddy resting incarceration. Fortunately for us, there were no memorable events on the way back except the longest session of off key singing of Bengali and Hindi songs ever - lasting all the way from Hazra Falls to Apna Ghar, where we stopped for a midnight dinner.